Welcome to i49 Genetics's Dedicated Cannabis Nutrients Store!
So you've got your seeds, but there's still plenty more you can do to help your crop flourish – and that's where cannabis nutrients come in.
We've got a top-notch selection for your perusal: from organic nutrients to cannabis fertilizer and everything in between, you're sure to find what you're looking for here! Healthier plants yield better-quality buds, and you know what that means – an awesome weed experience to share with your friends and remember forever.
We have three packs for you, each containing four great products.
Want to Know More About Nutrients?
They say that knowledge is power – so read up! These blog articles will give you all the inside info on marijuana nutrients and why they're so important.
Visit our Blog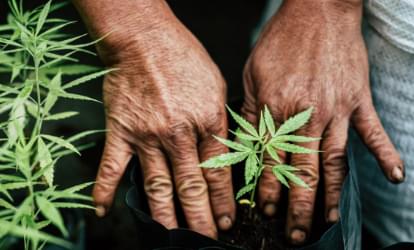 Best Marijuana Fertilizers
Selecting the right fertilizer for marijuana plants is challenging. For many high yield seed or auto flower seed growers, it may be part of ...
Growing marijuana is a real art form — and it's yours to master! But to truly excel at your trade, you've got to have the right tools for the job. There's far more to cannabis cultivation than seeds alone, and here at i49 Genetics we want to guide you through every step of this incredible journey.
Aside from our carefully-curated catalog of feminized, regular and autoflowering seed strains, we also offer a wide variety of cannabis nutrients. By combining these products with top-quality beans and optimal grow conditions, you'll give yourself the best possible chance of rearing a plant to be proud of — and one that'll turn your friends' faces green with envy!
Marijuana nutrients come in a variety of different shapes and sizes, and it's always better to deal with any potential issues before they arise. The prevention is easier than the cure, after all!
If you're looking for the bare essentials, our Standard Pack contains four of the best nutrients for weed on the market. It'll help ensure a hassle-free grow, and it covers you through all the key growing stages from germination right through to harvest. The Standard Pack contains Seedling Booster, Growtime Fertilizer, Flowertime Fertilizer and Plant Booster.
Perhaps you want to grow organically? It can be quite tricky to get right, but the results are well worth it. If you fancy cultivating your crop just as Mother Nature intended, then you're going to need some organic nutrients. The great news is that we offer a different version of the Standard Pack called — you guessed it! — the Organic Pack. We've kept the prices as low as possible so it won't break the bank either!
And then there's the Plant Protectants Pack that'll soon send pests, diseases and pathogens running for cover. This pack contains Root Guardian, Bug Blaster, Mold Shield and Germ Genie — and you can bet your bottom dollar that common garden nasties don't stand a chance against this powerful foursome!
Aside from using the products listed above, there are other steps you can take to ensure your harvest is both hefty and prosperous. Get hold of a marijuana nutrient deficiency chart and use it as a guide, and always make sure you follow the instructions when applying marijuana nutrients and cannabis fertilizers. This will help you to avoid common problems such as nutrient burn.
These packs contain some of the key cannabis nutrients for outdoor and indoor growing, and you'd be wise to check them out. With help from i49 Genetics, you're in for an unforgettable ride!